For our Best Pontins Prices please ring with dates, location and room type.
Brean Sands Holiday Park - Sun and Sand at our Somerset Holiday Park
We have improved our bed linen procedure for all 2013 breaks! Now offering 2 options for you to choose from! FIND OUT MORE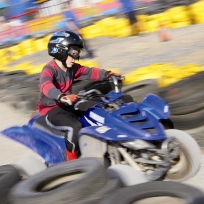 Brean Sands is a breath taking West Country seaside location for holidays like they used to be with a 7 mile award winning beach of golden sand literally on your doorstep stretching from Brean Down to Burnham on Sea. With some of the most stunning beaches and glorious scenery no wonder they call it the "Jewel of the South West". There are spectacular sights such as Cheddar Gorge, Wookey Hole and the nearby Clifton Suspension Bridge to see and miles of unspoilt National Trust land to explore
.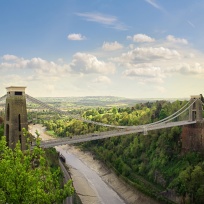 Brean Sands Holiday Park is the perfect base to explore all the best of Somerset and Avon and to create magical family memories. From fun on the beach to fun in the Park you can choose the holiday you want. Your Pontins Entertainment Pass covers loads of FREE activities which will keep kids of all ages happy, from a thrilling outdoor adventure playground to a fantastic indoor pool. By nightfall you can enjoy evenings in the Fun Factory which is packed with Entertainment or a quiet drink at our very own Queen Vic Pub!

Location
A magnificent sweep of sand stretches from the seaside resort of Burnham-on-Sea, North past the holiday villages of Barrow and Brean Sands to the National Trust headland of Brean Down. Along the coast you can find a great range of facilities from fishing lakes to golf courses and swimming pools.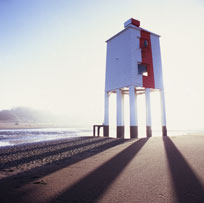 Brean is a breathtaking West Country seaside location for holidays like they used to be. A 7-mile beach of golden sand is literally on your doorstep and nearby is the famous Cheddar Gorge, Wookey Hole and miles of unspoilt National Trust land to explore.
Local Information

Brean Sands – Quality Coast Award
Animal Farm Adventure Park
Brean Down and Brean Fort, Brean
Need directions to Brean Sands?
To find out how to get to any of our Holiday Parks, simply enter where you are travelling from and which park you are visiting then click "Get Directions". Alternatively you can call us on 08448 11 20 11 and talk to one of our helpful Holiday advisors.
Directions – by car
Brean Sands is based just off the M5 near Weston-Super-Mare and not too far from Bristol.
Facilities
Bars, Venues, Where to Eat, Shopping & Services on Brean Sands Holiday Park




Everything under one roof
Lunars Showbar
Fun Factory Showbar
Queen Vic Pub
Captain Cod's
Downtown Diner
Beachcomber Diner
Character Store
Trick 'N' Treats
Nisa Today's Convenience Store
Hire Time
Photo Services
Making life easy
Don't bring everything with you – just use our on Park shops for all your Holiday needs.
With everything from everyday essentials like bread and milk, to those important Holiday treats like a decent wine and a cold beer, even postcards to send home our stores have it all.
Our Parks are like your local village, we have photo services, joke and souvenir stores, along with our Nisa stores offering you a wide range of fresh and frozen meals, fruit and veg to feed your family, ideal if you have chosen a Self Catering Holiday.

Just the place to pick up a souvenir or a cuddly Captain Croc for the kids to take home, a reminder of their best Holiday ever.
You can even have all your Holiday shopping delivered direct to your apartment on arrival. Call one of our Customer Service Team today to place your order.
Accommodation
Brean Sands offers a choice of 3 grades of single storey accommodation. In addition we have two rows of apartments which are available on both ground and upper floor.
BUNGALOWS coming soon

Accommodation Types Club – 1 or 2 Bedroom Apartments Classic – 1, 2 or 3 Bed Apartments Popular – 1 Bedroom Apartments
Bathrooms Club – Three quarter length Bath with Shower over Classic – Three quarter length Bath with Shower over Popular – Full length Bath, Toilet and Washhand Basin
Half-Board Option
Half-Board option is available at Brean Sands. You will still have the facilities of a Self-Catering Apartment but you will enjoy your breakfast and an evening meal in the Restaurant. Half-Board supplement from £12 per adult and half price for children under 14 years of age. Half-Board price will increase dependant on the date of travel. Vouchers will be issued in your arrival pack.
Club Accommodation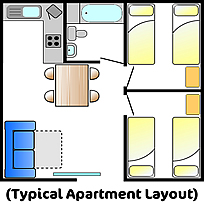 The top of the range! Our Club Apartments provide you with a host of additional benefits like free electricity, and a digital TV. You also get the extra luxury of an early check-in from 2pm just to make your stay more comfortable and convenient.

Free Electricity
Free Daily Newspaper
Top of the range Accommodation
Extras
Bed Linen to keep
£5 per single bed,
£8 per double bed
Club – Electricity included
Classic and Popular Apartments – Electricity is on a meter card – Which cost £1-£5 and are available from machines located in the Reception area on the Holiday Park.
Travel Cot hire Available – £10 per cot
Classic Accommodation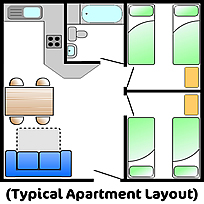 There are also a limited number of Classic Apartments with 3 Bed rooms, sleeping upto 8. Generally a Classic Apartment is closer to the central amenities meaning more convenient access to all the facilities on your Holiday Park.
Mid-range of Accommodation
Special Requests
If you require any extra pillows or bedding please ask at the Service Centre on the Holiday Park.
Ramps can be provided for access to all ground floor apartments, please ask at the time of booking or see "Special Requests" field when booking online.
At Brean Sands there are a limited number of Classic Apartments that are fully adapted for guests with disabilities.
They include a kitchen with lower level units and a fully adapted wet room facility in the bathroom.
Popular Accommodation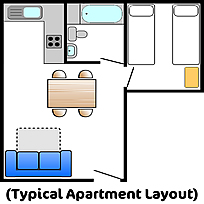 Popular Accommodation, offers you a comfortable Apartment at an Out standing price. The Apartments include a fitted kitchen, private bathroom and lounge with TV. All our Popular Apartments have 1 bed room, so they can sleep upto 4 people.

Colour TV Fitted Kitchen Value Accommodation
Self-Catering
All Self-Catering Apartments consist of a Lounge with a Double fold out Bed settee, Kitchen, Bathroom and Bedrooms as above, with either Single beds or Bunk beds.
Brean Sands has a limited amount of Club two bedroom apartments which have a Double Bed in one of the bedrooms.
Disabled facilities
At Pontins we aim to ensure that all guests with disabilities are able to stay with us and have a great time. However accessibility can only really be assessed according to an individual's personal needs and requirements. While we cannot guarantee an environment that provides "access for all", we aim to provide an environment that is relatively accessible. There are a number of ways we can help including:
Wheelchair hire
All Parks can provide wheelchairs from the local Mobility Centre for guests requiring them – please
telephone the Park
in advance of your visit to request this.
Ground Floor apartments
All Blue Badge holders are entitled to choose a Ground Floor apartment at no extra cost when booking a break. There is usually a supplementary charge of £5.00 for a Ground Floor apartment so please ensure you mention your Blue Badge when making the booking.
First Aid
All Parks have fully trained First Responders and are equipped with Oxygen, Defibrillators and first-aid supplies. They can also contact the emergency services on your behalf.
Disabled Accommodation
Please note all accommodation requests will be taken on a first come, first served basis and are subject to availability. For more detailed information please contact the Park direct on the numbers provided
here
.
Brean Sands
Brean Sands is predominately on one level and therefore all Ground Floor apartments will provide some adequacy for those with difficulty using stairs. We have a number of 2 bedroom Classic apartments that have been adapted for wheelchair users. These rooms have a wet room/walk-in shower, low level kitchen surfaces and cookers, emergency pull chords, free electricity, and a remote control for the television. Please book well in advance to reserve this type of room. In addition to these adapted apartments we have 1 and 2 bedroom Classic apartments that are disabled friendly – but have not been modified specifically for wheelchair users. e.g. they have more space to move about inside, but do not have lowered kitchen surfaces or a wet room. Please book via the call centre on 08448 11 20 11 and make it known to the Holiday Advisor the type of room you require.
Price
Every Day Essentials – £3.99

Price
Family Essentials – £8.99

Price

Special Treats – £14.79

New for 2013

Linen - Buy new use it and take it home .

Price includes : Pillowcase(s) , Duvet Cover and Sheet.

Single bed £5.00 per bed pre paid
Double bed £8.00 per bed pre paid

1 pillow case in single pack
2 pillow cases in double pack