For our Best Pontins Prices please ring with dates, location and room type.
Southport Holiday Park-Action Packed Fun for All
New for 2013
We have improved our bed linen procedure for all 2013 breaks! Now offering 2 options for you to choose from! FIND OUT MORE















Southport is one of our great traditional seaside resorts with miles of open beach and great nightlife on tap.

The town itself is a scene of tranquil Parks and
Gardens by day and a vibrant buzz of outstanding nightlife in the evening. The Victorian splendour of Lord Street is on hand for anyone who wants to put a bit of old time elegance back into their shopping experience. Further afield are world class events from the Southport Air Show to the famous Grand National just down the road at Aintree

Southport Holiday Park sits on the edge of Ainsdale Village just on the outskirts of the lovely resort town of Southport. Situated on the glorious North West coast with sandy beaches, sand dunes and magnificent panoramic views, Ainsdale Beach is famous for the transatlantic flight of Dick Merill and Jack Lambie, in a twin engine Lockheed Electra monoplane. Southport Holiday Park is one of the most vibrant of our Holiday Parks with so many FREE Activities you will be spoilt for choice – full of fun and entertainment! With Crazy Golf, Giant Connect 4 and Snakes & Ladders, all great family fun or you can save your energy for amazing evening entertainment – every night!


Facilities
Bars and Venues, Where to Eat, Shopping & Services on Southport Holiday Park




Everything under one roof
Lunars Showbar
Fun Factory
Queen Vic Pub
Captain Cods
Rollover
Character Store
Nisa Today's Convenience Store
Trick 'N' Treats
Hire Time
Free Wi-Fi in Queen Vic
Making life easy
Don't bring everything with you – just use our on Park shops for all your Holiday needs.
With everything from everyday essentials like bread and milk, to those important Holiday treats like a decent wine and a cold beer, even postcards to send home our stores have it all.
Our Parks are like your local village, we have photo services, joke and souvenir stores, along with our Nisa stores offering you a wide range of fresh and frozen meals, fruit and veg to feed your family, ideal if you have chosen a Self Catering Holiday.

Just the place to pick up a souvenir or a cuddly Captain Croc for the kids to take home, a reminder of their best Holiday ever.
You can even have all your Holiday shopping delivered direct to your apartment on arrival. Call one of our Customer Service Team today to place your order.
Prices
Every Day Essentials – £3.99

Prices

Family Essentials – £8.99

Current Events - Captain Jack Pigeon at Water Wars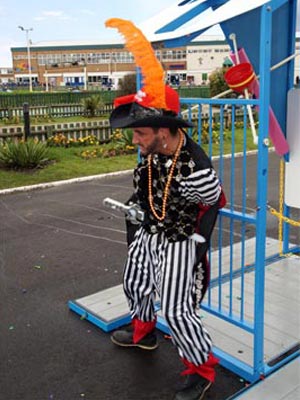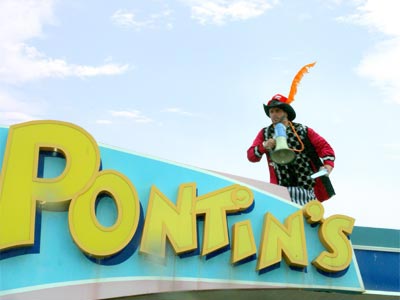 Captain Jack Pigeon at Pontins having a fun game of Water Wars.

This is one of the newest activities to arrive at Pontins Southport Holiday Park.

Water Wars is the ultimate water balloon game where opponents stand at battle stations and fire buckets of water balloons at each other using a launcher.

Why not come down yourself to have a go at soaking a Pirate.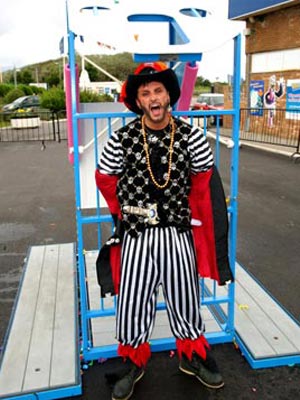 Look What's New at Pontins

We have a load of new activities here are just some of the new ones we have
Why not try our great new skate park or one of the 6 trampolines we now have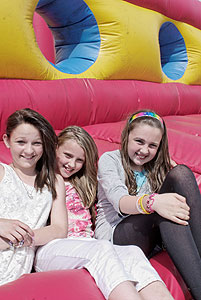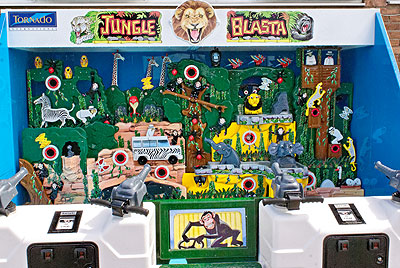 Make a splash with the Jungle Blasta
A new Croc inflatable for the little ones and a new inflatable assault course for the bigger kids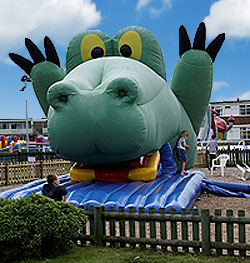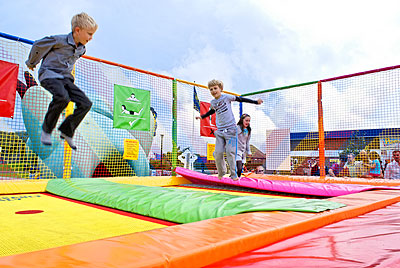 More Inflatable Fun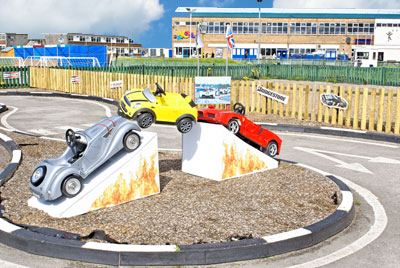 Are you the next Lewis Hamilton then have a race around are great new race track.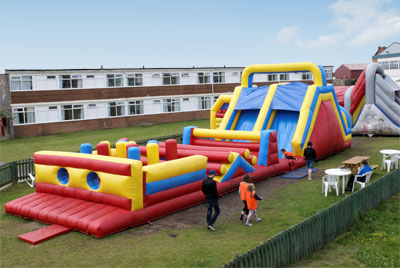 Can you take on the full inflatable assault course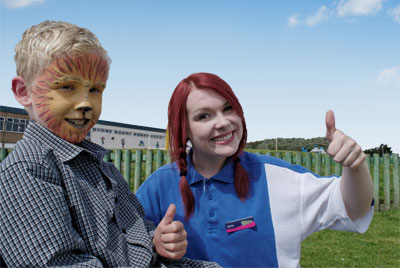 Why not get your face painted as a lion or any thing you like
Accommodation - Southport offers a choice of 3 grades of Accommodation available on both ground and upper floor.
Southport Bungalow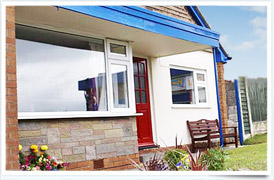 You know the saying "Keeping up with the Jones'" then why not be the Jones' with our New Bungalows that have a list of extras that will make you feel like a VIP during your holiday.
Flat Screen TV's
Private Family areas
Private BBQ
Dogs Welcome
Dishwasher
plus much much more!
Club Accommodation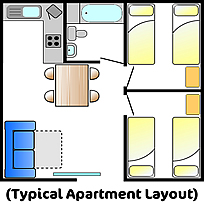 The top of the range! Our Club Apartments provide you with a host of additional benefits like free electricity, and digital TV. You also get the extra luxury of an early check-in from 2pm just to make your stay more comfortable and convenient.
Free Electricity
Free Daily Newspaper
Top-range standard of accommodation
Classic Accommodation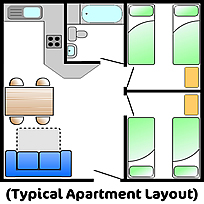 Generally a Classic Apartment is closer to the central amenities meaning more convenient access to all the facilities on your Holiday Park.
Mid-range standard of accommodation
Popular Accommodation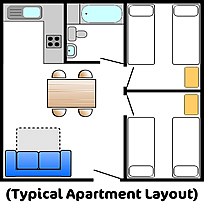 Popular Accommodation, offers
you a comfortable Apartment at an Outstanding price. The Apartments include a fitted kitchen, private bathroom and lounge with TV. All our Popular Apartments have either 1 or 2 bedrooms, so they can sleep up to 4 or 6 people.
Colour TV
Fitted Kitchen
Value Accommodation
Accommodation Types
Club – 1 or 2 Bedroom Apartments
Classic – 1 or 2 Bedroom Apartments
Popular – 1 or 2 Bedroom Apartments
Bathrooms
Club – Three quarter length Bath with Shower over
Classic – Three quarter length Bath with Shower over
Popular – Three quarter length Bath with Shower over
Extras
Bed Linen
£5 per single bed
£8 per double bed
Club – Electricity included Classic and Popular
Electricity is on a meter card
Cards cost £5 and are available from machines located in the reception area on the Holiday Park
All apartments – Travel Cot hire – £10 per cot
Special Requests
If you require any extra pillows or bedding please ask at the Service Centre on the Holiday Park. Ramps can be provided for access to all ground floor apartments, please ask at the time of booking or complete the Special Requests field when booking online. At Southport Holiday Park there are a limited number of Classic Apartments that are fully adapted for guests with disabilities, which include a kitchen with lower level units and a fully adapted wet room facility in the bathroom. Southport's Swimming Zone is situated on the upper floor with 3 flights of stairs. There is disabled access to the pool side via a stair lift. Please ask a member of staff on the Holiday Park for assistance.
Self-Catering
Self-Catering Apartments consist of a Lounge with a Double fold out Bed settee, Kitchen, Bathroom and Bedrooms as above, with either Single beds or Bunk beds.
Half-Board
Half-Board option is available at Southport. You will still have the facilities of a Self-Catering Apartment but you will enjoy your breakfast and an evening meal in the Restaurant and Vouchers will be issued on arrival. Half-Board is available at a supplement from £12 per adult and half price for children under 14 years of age. Half-Board price will increase dependant on the date of travel.
Things To Do
As well as all the activities we have to offer there are some great local attractions near Southport to make some magic memories for you and your family.
All of our Pontins Holiday Parks, including Southport are close to a variety of local attractions. Whether you are looking for a day-out with the kids, or looking to brush up on some history our Holiday Parks offer you a great 'jumping point' to explore the surrounding area
Liverpool Albert Dock
Liverpool's Albert Dock is a must for anyone looking for Culture, Cuisine and Shopping. The docks offer an array of attractions including; The Beatles Story, Merseyside Maritime Museum, International Slavery Museum, Tate Liverpool and various shops, bars and restaurants.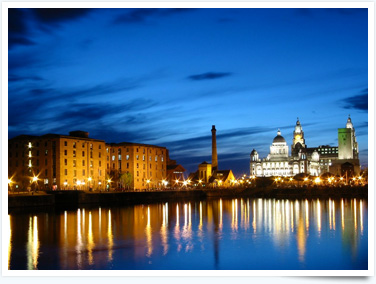 Dunes Splash World
Just around the corner from Pontins is Southport's Splash World. The Swimming Centre features slides, rides and water features! If you dare, take a chance on the two flume rides or river rapids, or the lazy river tyre ride is perfect for people who like to take things slower! Splash World is suitable for people of all ages, making it perfect attraction for the whole family!

Nestled in the beautiful countryside of Lancashire, Farmer Ted's is an interactive children's activity Park. The farm offers Tractor rides, an outdoor adventure playground, sand pits and plenty of different animals to play, feed and provide education for all visitors!

British Musical Firework Championships
Annually in Early Autumn
Taking place towards the end of September every year, the British Musical Firework Championship lights up Kings Gardens, over three nights, seven competitors battle it out with their firework displays set to music to amaze the audience and the judges and be crowned the champion of the competition.

Southport Lord Street Shopping
Take a day break into the Southport City Centre and stop by Lord Street. Lord Street is the home of elegant shopping in classic Victorian surroundings, with unique speciality shops and stores side-by-side with all your famous high street names
.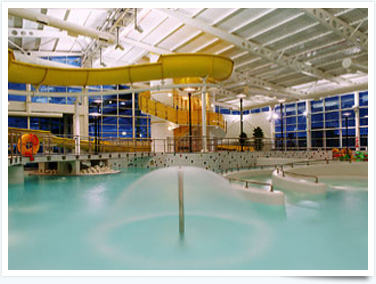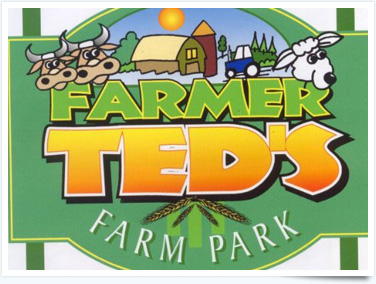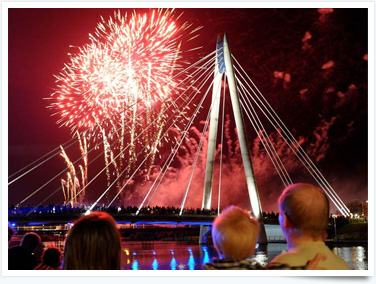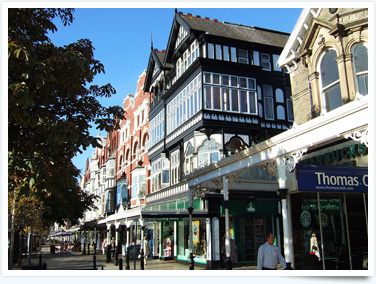 Del's Deli


Del's Deli and Sandwich Bar is situated in the heart of Ainsdale Village, Serving breakfasts from 7:30am and a wide variety of hot and cold food throughout the day to take away or eat in including it's now famous Build a Burger Menu.
Location
For a more relaxed day out you could visit the Botanic Gardens in Church Town with its traditional shops and public houses, surrounded with quaint thatched cottages. For the Golfer we have several world class courses to play at, the pinnacle being Royal Birkdale, the host of the Open.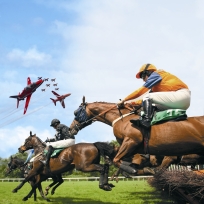 Southport is one of our great traditional Seaside Resorts with miles of open beach and great nightlife on tap. The town itself is a scene of tranquil Parks and Gardens by day and a vibrant buzz of outstanding nightlife in the evenings.
Local Information

Southport – Quality Coast Award
Royal Birkdale
Liverpool One Shopping Centre
Pontins Southport Holiday Park Shore Road Ainsdale Southport PR8 2PZ
Need directions to Southport? To find out how to get to any of our Holiday Parks, simply enter where you are travelling from and which Park you are visiting, then click "Get Directions". Alternatively you can call us on 08448 11 20 11 and talk to one of our helpful Holiday Advisors.
By Car Southport is based just off A565 near Hillside, Formby and Brikdale.